Joshua R. Katz Of Counsel & Co-Chairman of the Queens County Family Law Committee
Joshua R. Katz, Esq.
Of Counsel
Attorney Joshua R. Katz, Esq., is a highly-esteemed and success-driven Queens family lawyer with a wealth of experience and skill, making him an invaluable addition to our team. When not contributing his skills to our firm Of Counsel, he has been a full-time Partner at Plaine & Katz, LLP since 2012. His background includes successful representation of high net worth matrimonial clients as well as highly contested custody disputes. Our legal team at Law Offices of Donald Mastrodomenico, P.C. is honored to work alongside such a knowledgeable and skilled Queens divorce attorney. One who is nationally renowned for his work in the field of family law and who previously worked for the firm of Raoul Felder, commonly recognized as the top matrimonial firm in the state of New York.
As one of the top lawyers in the city, Attorney Katz is also a Fellow of the American Academy of Matrimonial Lawyers, an incredibly selective and strictly-vetted matrimonial attorney organization. There are chapters across the nation, and the organization's purpose is to provide leadership opportunities for family law attorneys who exemplify excellent standards of professionalism. The AAML is comprised of negotiators and litigators who seek to elevate the standards of family law, ranging across various areas such as divorce, annulment, prenuptial and postnuptial agreements, child custody and visitation, business valuations, property division, alimony, child support and more. Those part of this highly-esteemed organization are recognized across the board by judges and attorneys alike as exceptional professionals with a sincere sense of integrity and competence.
Attorney Katz is a member of the Queens County Bar Association Family Law Section, as well as a part of the Board of Managers. He is additionally admitted to the New York State Bar Association Family Law Committee, as well as Vice Chair of the Queens County Bar Association Family Law Section. Also, he is part of the Brandeis Association, and is a Fellow of the American Academy of Matrimonial Lawyers, serving on national admissions and legislation committees. Lastly, Attorney Katz is a member of the National Admissions Committee, National Legislations Committee, and the New York Chapter Attorneys for Children Committee.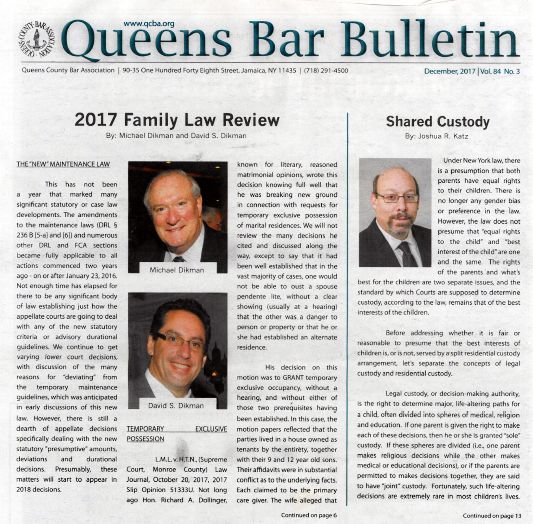 See Why You Should Hire the Law Offices of Donald Mastrodomenico Why We're Not Like Other Family Law Firms
Untarnished Reputation

With our 100 years of combined experience, while handling 700 cases per year (400 divorce cases and 300 family court cases), we have a spotless record with the New York State Bar!

Continuing Education

We are firmly committed to attending continuing legal education programs and find ourselves at the speakers' podium long after all other lawyers have left for the evening.

Staying Current With the Law

We have weekly office meetings to review noteworthy legal decisions and implement such strategies into our own cases.

Clients are Our Priority

Not our pocketbook or ego. With our firm, you get caring, professional, and competent legal representation.

Unparalleled Experience

No other firm in the greater New York City area has handled more divorces than our firm with over 100 years of combined experience.

Timely Resolutions

There is no other law firm that gets you divorced faster than us. For uncontested divorces, the documents are prepared and waiting for you before you walk in the door.

Low Flat Fees

We do not have hourly rates and clients are not billed for phone calls. We follow a flat fee structure for both contested and uncontested divorces.

Dedicated Exclusively to Family Law

Our sole purpose and focus is to help clients with their family law and divorce issues. That is all we do.
Request Your Free Case Evaluation
Work With an Attorney at Our Firm Today